2019 CAC ! Leef Fertilizer is coming - welcome to visit us !!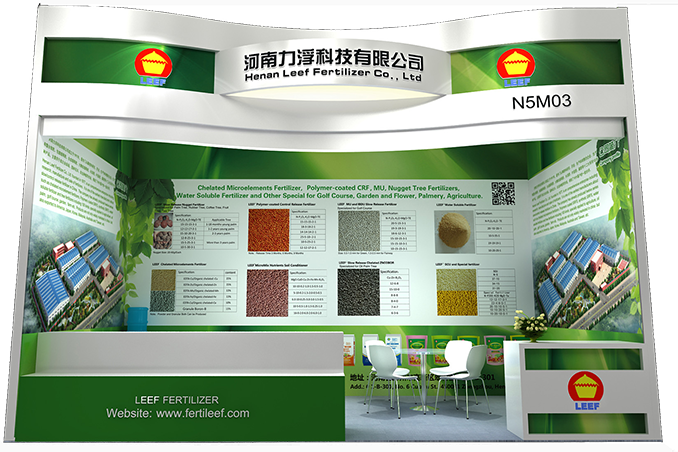 The 20th China International Agrochemical &Crop Protection Exhibition (CAC) will be held in Shanghai, China. Henan Leef Fertilizer Co.,Ltd. will attend the international new-type fertilizer exhibition again. Our booth number is N5M03.
As a dedicated enterprise engaged in R&D, manufacturing and markrting of slow/controlled release fertilizers. LEEF Fertilizer has always adhered to the development concept of "going global". We are looking forward to presenting our products to domestic and foreign agrochemical enterprises, experts ,dealers and so on at the exhibition:
Golf turf slow/controlled fertilizer series ;
Slow/controlled release fertilizer series for various trees, such as forest, oil palm, fruit trees, landscaping, etc.
Horticulture flower fertilizer series;
Micro nutrients fertilizer series;
Agricultural fertilizer series;
Main varieties are:
Sulfur-coated slow/controlled release fertilizer; Inorganic slow/controlled release fertilizer, Urea formaldehyde slow/controled release fertilizer,
Polymer coated slow release fertilizer, Surfur coated urea, Foliage-sprayed fertilizer, Granular sulfur magnesium fertilizer, Particle chelated micronutrients, EDTA chelated Fe fertilizer, EDTA chelated Cu fertilizer, EDTA chelated Zn fertilizer, EDTA chelated Mn fertilizer, Humic acid chelated micronutrients fertilizer, Acidic soil conditioner and Alkaline soil conditioner, etc.
Expectantly, At the upcoming CAC exhibition, Mr. Zhang wenhui, chairman of Henan Leef Fertilizer Co.,Ltd. will come to the scene Welcome the friends in charge of domestic and foreign enterprises, industry experts, dealers and so on to our booth for an in-depth industry exchange and business negotiation.
2019CAC, we are waiting for you here!!!
Last article: Ghana govt urged to establish fertilizer plant to boost agric productivity